First Waldhaus Flims Festival of Arts: the pleasure of culinary craftsmanship
First Waldhaus Flims Festival of Arts: The pleasure of culinary craftsmanship
Laax/Flims, June 15, 2022; With the first Waldhaus Flims Festival of the Arts, top chef Tristan Brandt and up-and-coming talent Niklas Oberhofer from the restaurant "EPOCA by Tristan Brandt" will celebrate the joy of culinary craftsmanship together with ten outstanding chefs on August 27 and 28, 2022. The spectacle will be complemented by artists from other disciplines. For Graubünden director Riccardo Giacometti, it is the right time to re-present the legendary Waldhaus Flims Wellness Resort to guests as an event location with a fantastic park.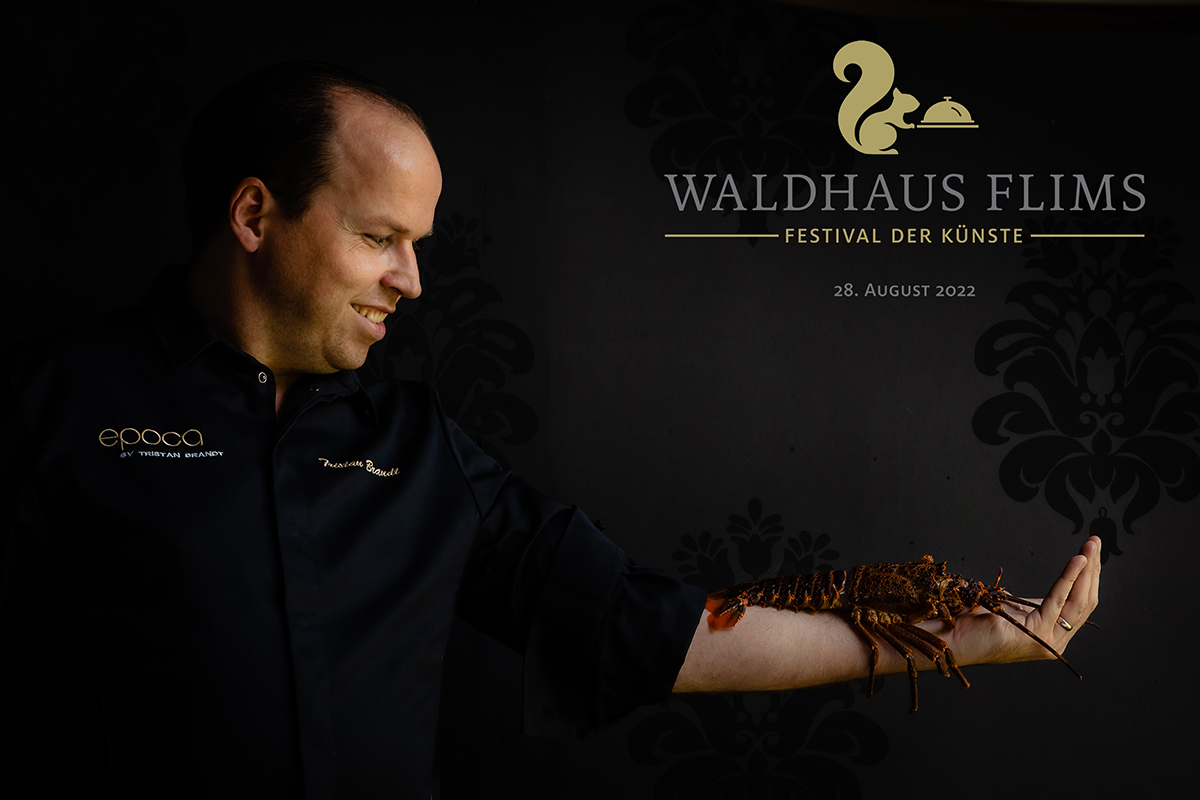 The Festival of Arts in a grand hotel or a summit meeting of Swiss star and top chefs with many other artists. At the Waldhaus Flims Wellness Resort, Tristan Brandt can stage events not only in the park but also in the historic building, which was laid out as early as the 19th century. There is also room for art, be it the painting easels of Dimitri Horta and Arian Nitsche, the DJ booth of Tanja La Croix or other attractions that add an extra magic to the setting. The audience's favorite Salar Bahrampoori will moderate this event.
The Saturday evening of August 27 is a warm-up with a Chef's Dinner at the restaurant "EPOCA by Tristan Brandt" with Niklas Oberhofer, Tristan Brandt and the three-star chefs Dominik Sato, Fabio Tofolon and Nico Burkhardt. The chef quintet will get guests in the mood for the highlight event on Sunday with an exclusive 6-course menu in the Belle Epoque ballroom of the Waldhaus Flims.
The actual festival premiere will take place on Sunday, August 28, 2022, 16:00 to 21:00. Top-class chefs have announced themselves, including 12 star chefs from Switzerland and a top pâtissier. They will all delight the guests with their creations. In addition to hosts Tristan Brandt and Niklas Oberhofer, two-star chefs Jeroen Achtien (Restaurants Sens, Vitznauerhof, Vitznau), Rolf Fliegauf (Ecco Giardino, Ascona), Christian Kuchler (Taverne zum Schäfli, Wigoltingen), Patrick Mahler (focus Atelier, Park Hotel Vitznau, Vitznau) and Sebastian Zier (Einstein Gourmet, St. Gallen) will take the festival stage. Star chefs Marco Campanella (La Brezza, Hotel Eden Roc, Ascona) and twin brothers Dominik Sato (Restaurant Seepark, Thun) and Fabio Toffolon (Restaurant zum Äusseren Stand, Bern) have also announced their presence at the premiere of the First Waldhaus Flims Festival of the Arts. Active support comes from Germany with the likeable star chef Nico Burkhardt (Gourmetrestaurant NB, Schorndorf). Andy Vorbusch (Pâtissier of the Year 2007. Hospitality Vision Lake Lucerne) will take care of the sweet end. Drinking pleasure will be provided by Champagne Moët & Chandon and wine partner von Salis, among others, while numerous regional gourmet and non-food partners, such as Samsung, which is responsible for the visual incentives, will provide further surprise moments.
The two initiators of the First Festival of the Arts at the Waldhaus Flims Wellness Resort, Tristan Brandt and Niklas Oberhofer, want to offer their guests a festival that appeals to all the senses and, in the process, provide artists with a platform to present their skills to a select audience.
"Art & Culinary Festivals are in vogue and enjoy great popularity. Guests appreciate gaining new impressions, looking over the shoulders of artists such as chefs, and discovering new high-quality products and creations. After a two-year break from events, it was important for us to offer our guests a new experience concept that appeals to all their senses, inspires them and gives them new ideas. And I couldn't imagine a better place for this than the beautifully located Waldhaus Flims," explains Tristan Brandt, Germany's former youngest two-star chef.
Partners
Additional information:
First Waldhaus Flims Festival of Arts: These are the partners!
Main sponsors:
Champagne Moët & Chandon | Von Salis Wine | Samsung
Delight and non-food-partner:
ALPINA GROUP BMW | SUTER | Foppa | OONA CAVIAR | SWISS KNIFE | BRAGARD | WIELAND BLUMEN | CES CATERING | NESPRESSO | RED BULL | ZU GAST | CALANDA HEINEKEN | FERMENTEAD KOMBUCHA | GIGI KRSITALL | DAGOUT | RAUCH SÄFTE | ALLEGRA UND PASSUGGER | RAGETH | LOGO NIETSCHE | DANI AMMANN | WERKSTÜBLI
Delight and food-partner (Chefs' Dinner):
SMITH AND SMITH | Weingut am Stein | Mas Martinet | Venus la Universal | Gramona
Receipt requested to: annabarbara@aber-relations.ch
Media Office Switzerland
Anna Barbara Eisl, ABER relations
+41 79 634 73 03
annabarbara@aber-relations.ch