Niklas Oberhofer from "EPOCA by Tristan Brandt" is in the final of "Chef of the Year
Young talent convinces in the preliminary final of the toughest cooking competition in the German-speaking world.
Flims/Laax, June 2022 – Pure excitement: At the end of May, the time had come and youngster chef Niklas Oberhofer (26) cooked in a live battle with four female chefs and twelve male chefs at the Scheck-In Kochfabrik in Achern for a place in the final of Chef of the Year, which is already taking place for the seventh time and is one of the most renowned competitions for up-and-coming talent in the culinary scene.
Beforehand, Niklas had to beat 300 competitors in the preliminary round to secure a place in the live competition. The task was to prepare a three-course menu for 5 people in 5 hours and serve it to the expert jury during the subsequent service time of 20 minutes. The menu had to meet the following specifications: Appetizer: Vegetarian Vegetable Garden, Main Course: Game – Maibock, Dessert: Everything around the strawberry and could not exceed a commodity value of 16€ per person. A great challenge for the young talents!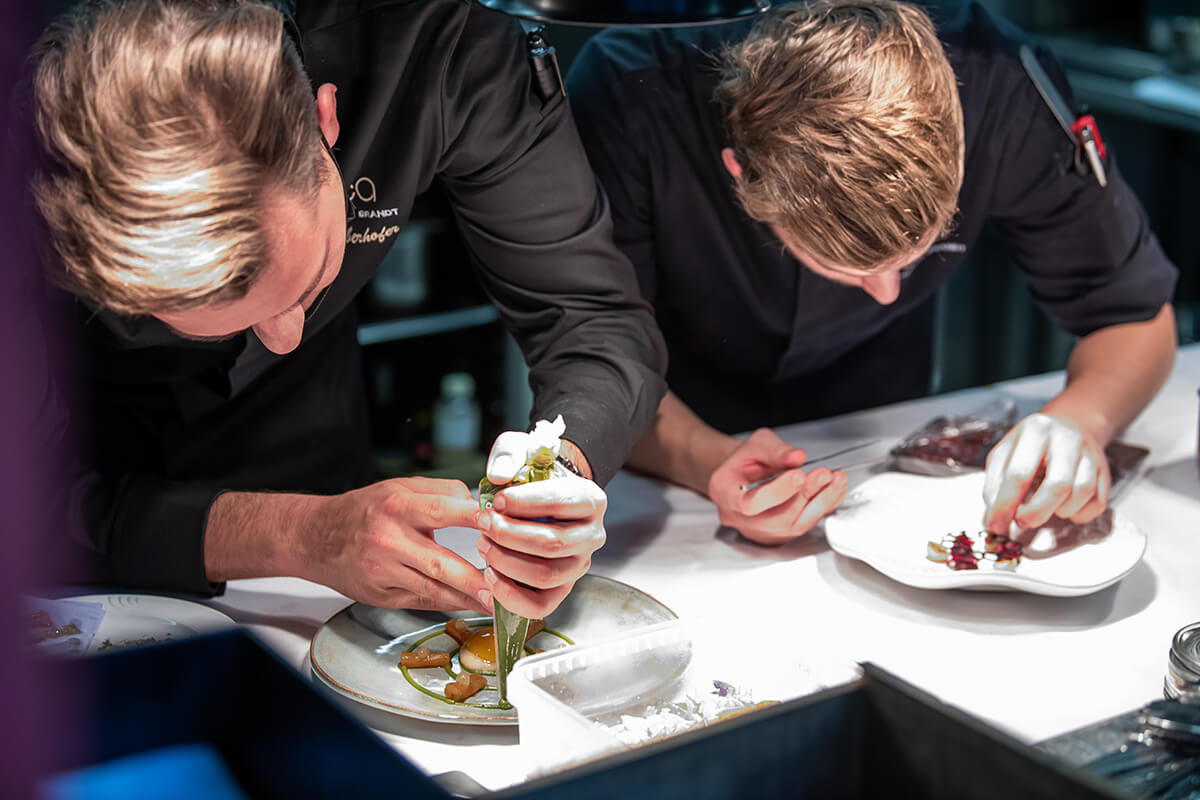 Chef of the year with top-class jury of experts
This year, too, the performance of the participants was evaluated by a top-class jury: inside was judged by a top-class jury, including jury vice president Sebastian Frank (Horváth**, Berlin), Nico Burkhardt (gourmet restaurant Nico Burkhardt* – Boutiquehotel Pfauen, Schorndorf), Tony Hohlfeld (Jante**, Hanover), twin brothers Dominik Sato (das Restaurant*, Congress Hotel Seepark Thun) and Fabio Toffolon (Restaurant zum Äusseren Stand*, Berne), Anton Gschwendtner (Restaurant Atelier**, Hotel Bayrischer Hof, Munich), Philipp Kovacs (Goldberg**, Fellbach), Martin Fauster (Wolfshöhle, Freiburg), Andreas Krolik (Lafleur**, Frankfurt am Main), Boris Rommel (Gourmet Restaurant Le Cerf**, Wald-und Schlosshotel Friedrichsruhe, Zweiflingen), Andreas Wittman (Ursprung*, Königsbronn) and Logan Seibert (959 Heidelberg), as well as the technical jurors Jan Pettke (Scheck-In Kochfabrik, Achern), Patrick Lorenz (Upfield Germany) and Christian Thiele (RATIONAL Deutschland GmbH).
Managing Director Nuria Roig of Grupo Caterdata S.L. and organizer of the competition was visibly delighted with the quality of the creations presented. "I am very pleased with the large number of applications and the performances of our youngsters, whose work and courage we honor with this competition".
And top chef and patron of Niklas Oberhofer Tristan Brandt, himself a former participant in Chef of the Year, was also delighted with the success of his up-and-coming talent: "This competition shows us that, despite a great shortage of skilled workers in our industry, there are still passionate and passionate young people who embark on the hard path to top and starred gastronomy in order to provide unforgettable culinary moments for guests. In doing so, they preserve and secure the future of our food culture. At the same time, this competition offers a platform for young chefs to develop and learn a lot."
Hotel director Riccardo Giacometti from the Swiss Grandhotel WALDHAUS FLIMS Wellness Resort was also pleased with Niklas Oberhofer's success: "We are very proud that we were able to bring Niklas Oberhofer from Germany to Switzerland. Within a very short time, together with Tristan Brandt, he has turned our restaurant concept "EPOCA by Tristan Brandt" into a top restaurant. Niklas knows how to make the best use of the regional products that Switzerland has to offer and to integrate them into a high-quality menu."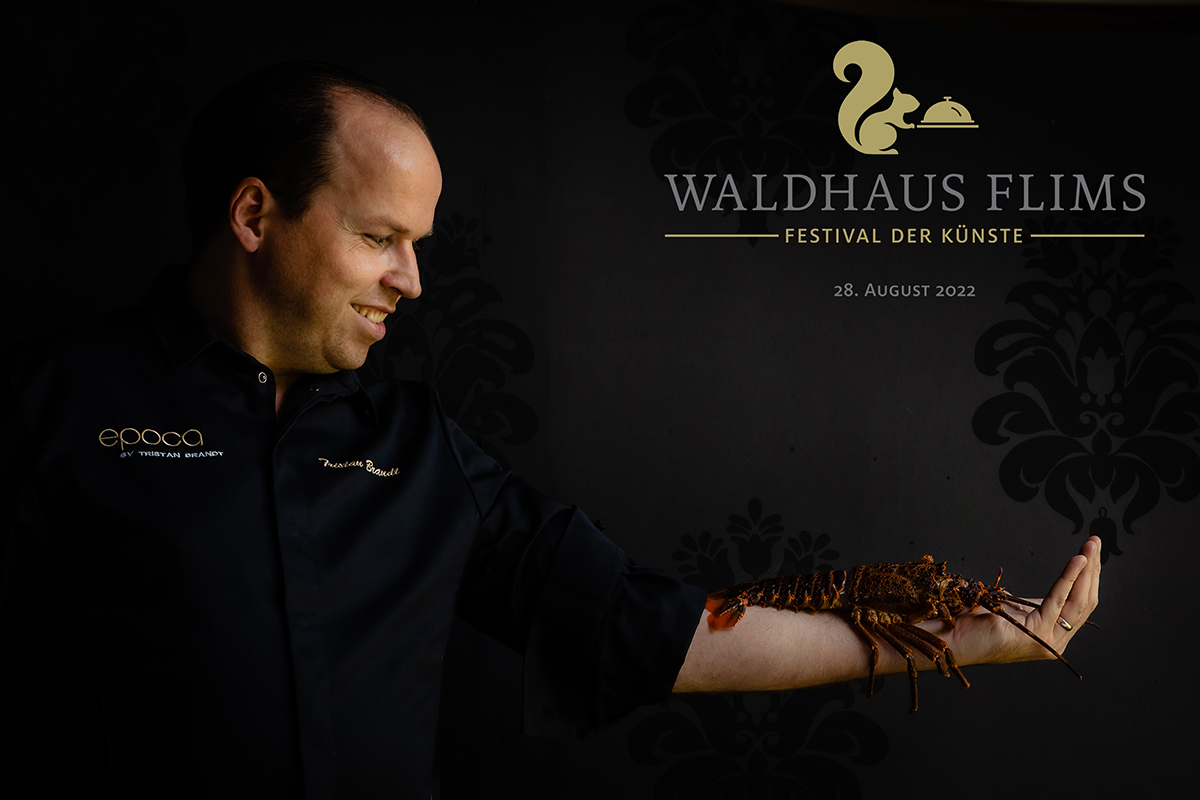 Save the Date(s): Niklas Oberhofer and Tristan Brandt jointly organize the 1st Waldhaus Flims Festival of the Arts
Anyone who knows Tristan Brandt knows that he is always on a culinary journey and constantly on the lookout for new exciting projects. Niklas Oberhofer also shares this aspect: never standing still and constantly evolving. On August 27 and 28, 2022, the crème de la crème of the Swiss culinary scene has announced itself at the Waldhaus Flims. The Art & Culinary Festival, co-organized by Niklas Oberhofer and Tristan Brandt, will present two-star chefs Jeroen Achtien (Restaurants Sens, Switzerland), Rolf Fliegauf (Ecco Giardino Ascona, Switzerland), Christian Kuchler (Taverne zum Schäfli, Switzerland), Patrick Mahler (focus Atelier, Switzerland) and Sebastian Zier (Einstein Gourmet, Switzerland). Star chefs Marco Campanella (La Brezza, Switzerland) and twin brothers Dominik Sato (Restaurant Seepark, Switzerland) and Fabio Toffolon (Restaurant zum Äusseren Stand, Switzerland) have also made firm commitments for the premiere of the 1st Waldhaus Flims Festival of the Arts. Energetic support also comes from Germany in the form of the likeable star chef Nico Burkhardt (Gourmet Restaurant NB, Germany).
If you would like to experience this top-class squad around youngster Niklas Oberhofer live, you can find more information at www.waldhaus-flims.ch/de/festival.
After the Festival of Arts, it's all fingers crossed for Niklas Oberhofer, because then it's off to the finish line in the final of the Chef of the Year competition, which will take place on November 11 and 12, 2022, in the Palmengarten in Frankfurt am Main.
"I am really looking forward to the final and will give everything to fully inspire the jury. I would like to thank Tristan Brandt, the Waldhaus Flims and my partners, especially the Alpina Group from Switzerland, for their great support," says Niklas Oberhofer.
Reprint free of charge. Please send a proof to: Press Office Tristan Brandt, c/o 80 GRAD, Corinna Dosch, e-mail: dosch@80-grad.de
Pressestelle Tristan Brandt
c/o 80 GRAD | Agentur für Digitale Kommunikation
Corinna Dosch, PR & Kommunikation
Mühlenstraße 7 – D-40213 Düsseldorf
Tel.: +49 (0) 211 / 13 95 12 79
Mobil: +49 (0) 176 / 619 232 77
E-Mail: dosch@80-grad.de